The Complete Automobilist was established in 1969 by Colin Crabbe to supply parts for the restoration of veteran and vintage vehicles.
The company also provides products and services to many other mechanically minded enthusiasts, including the classic and special builder, vintage commercial, tractor and stationary engine owner, with some of our parts even finding their way onto boats and aeroplanes! Over the years, the company's extensive product range has expanded to cover post-war vehicles and the business grew further as Small Ford Spares was established in 2000 and the Complete Automobilist was acquired from Colin Crabbe in 2005.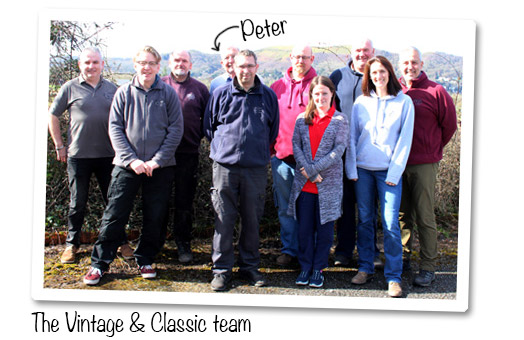 More recently, Vintage Supplies acquired Stafford Vehicle Components (sVc) - the classic lighting and electrical specialist, Classic Engine Parts - suppliers of new old stock and remanufactured engine parts for vehicles back to the 1930s, Flexolite - the oil filter adaptor and flexible hose experts and established Classic Bulbs, following the purchase of Cambridge Auto Bulbs stock, introducing a new range of LED upgrades specifically for classic and vintage cars. All these specialist websites are now operated from our large warehouse facility in Malvern, as part of the Vintage and Classic Spares family.
We have retained our place in the market for over 50 years by investing considerable funds in exclusive product manufacture and stock holding - endeavouring to keep all items on our shelves for prompt despatch. Unlike many, we don't use drop-shipping or similar schemes to reduce our overheads at your expense and all orders are carefully packaged for delivery to our customers worldwide. We are proud to supply many 1000s of customers globally, with 100s of packages despatched every week to the UK, Europe, America, India, Japan, Australia, New Zealand and many other countries. Whilst we prefer to supply goods by mail order, we also have a showroom facility our customers are welcome to visit, to discuss their requirements or collect parts. Additionally, we take a limited range of items to shows throughout the year including the Restoration and Classic Car shows at the NEC. It has always been our policy to offer retail customers a very specialised, value-for-money service, offering keen prices and prompt delivery, though we also supply many trade accounts - please enquire specifically about items and quantities you may be interested in and we will advise on terms. Thank you for your interest in Vintage Supplies, we hope we can be of service to you.
Matthew Riddell
Managing Director
---
Inside The Complete Automobilist Warehouse
The Complete Automobilist is part of Vintage & Classic Spares. We keep a huge inventory of parts in stock at our 15,000 ft warehouse by the Malvern Hills, in Worcestershire.
---