Car accessories & parts for all vintage, veteran and classic cars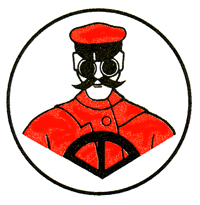 The Complete Automobilist of Main Street, Baston was established in 1968 to offer veteran, vintage and classic car parts for the restoration of all older vehicles.
We offer all classic car parts by mail order with despatches made over the whole world. We offer numerous obsolete parts from makes such as Lucas side and rear lamps and Wilmot Breden handles.
The parts extend to many vintage and classic car accessories. which include Brooklands aeroscreen, an extensive range of motoring helmets gloves goggles and hats, various mirrors for the edwardian and vintage car and the classic car periods.
We are main agents for Andre Hartford friction shock absorbers and stock a varied range of coachbuild and body parts fittings. We have Montaut motoring prints and other Shell and Pratts transfers to finish the vintage restoration. The quality range of antique automobile accessories includes headlamp stoneguards, running tread board, radiator cap, rear lamps, side lamps and instruments and gauges.
Many of these vintage and classic car parts are specially commissioned for us, for despatch world wide, handled by people with enthusiasm and years of specialist vintage and classic vehicle parts knowledge.

Trade support member of the Federation of British Historic Vehicle Clubs